Looking for our Fall 2019-2020 schedule? It can be found here.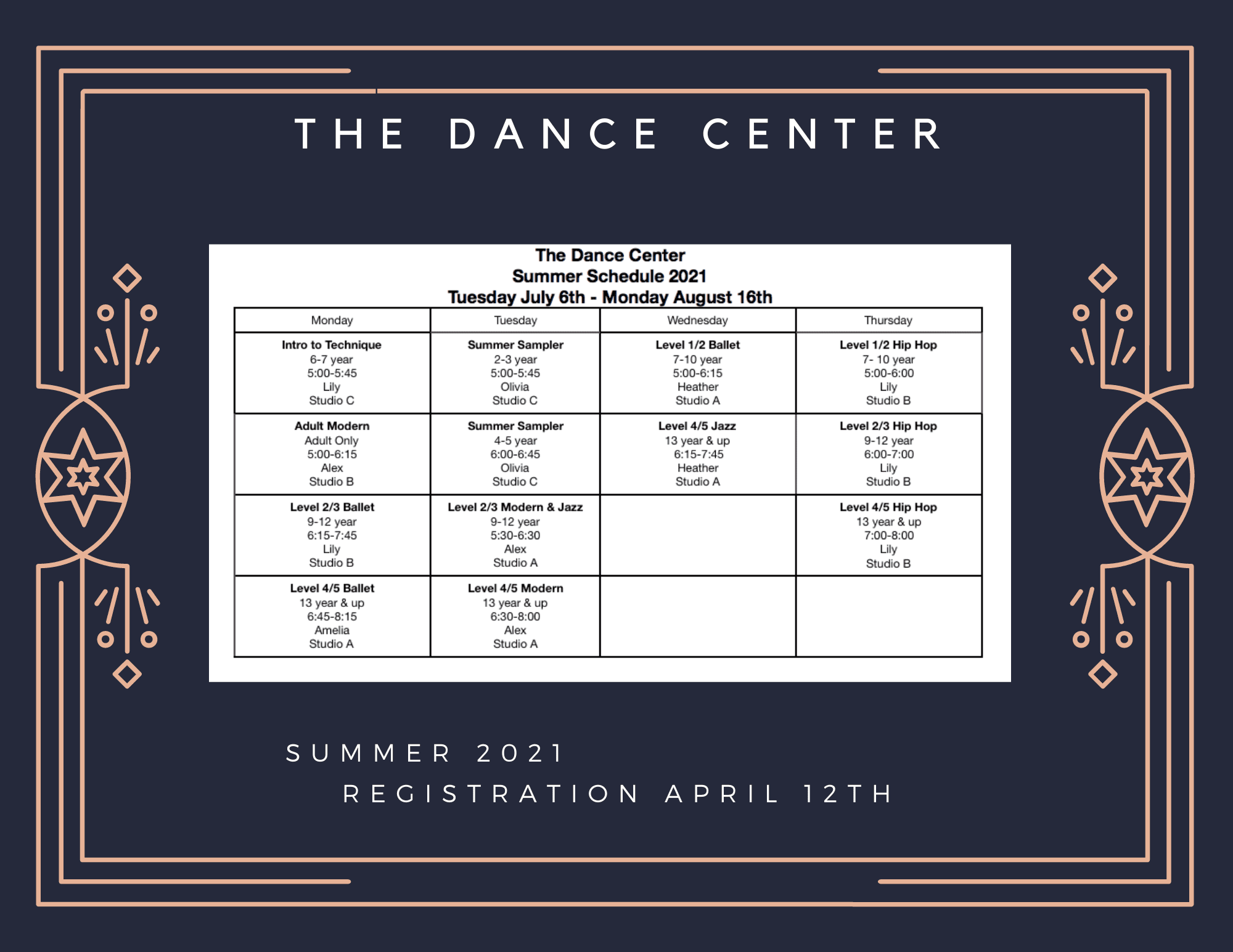 Summer classes run for 6 weeks from July 6th through August 16th, 2021. For summer tuition rates, click here.
Summer Dance Camp information, please click here
Summer Dance Intensive information, please click here
Click each heading below for a description of each class.
Summer Sampler: 2-9 years
The Summer Sample includes ballet, jazz, and modern dance technique appropriate to the child's age and level. The program introduces children to rhythm, choreography, stretching and strengthening. A great deal of emphasis is placed on enjoyment of the art of dance while maintaining the discipline required for any artistic endeavor.
Ballet Technique
Ballet classes are designed to expose students to the disciplined beauty of classical ballet. Proper body alignment as well as strengthening and stretching are emphasized. We use an Americanized ballet curriculum focused on the well-being and artistry of the individual dancer, drawing from the best of the Russian, French, and Italian traditions.
Modern
Modern classes build strength and flexibility through experimentation with the full range of movement possibilities. Techniques from the traditions of Graham, Humphrey, Limón, and others build upon a foundation of ballet technique. Students are encouraged to develop an individual style driven by their experiences and specific to each dancer's body.
Hip-Hop
Hip hop classes build stamina, strength, and flexibility while moving to high energy music. Skills including crew style movement, body isolations, popping, and a great sense of rhythm will be put into practice each class.
Jazz
Jazz classes include a combination of many styles and techniques including Broadway, Latin, African, and social dance. Proper technique, body placement, and healthy work habits will be stressed. Musicality and expression are emphasized.
Attire: Leotard, leggings or fitted shorts, black split-sole suede sole jazz shoes